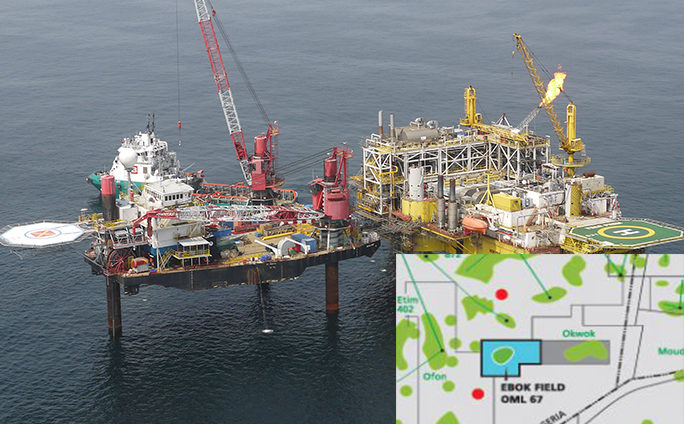 PROJECT DETAILS
The Ebok Field (Ebok) was awarded to Oriental Resources in May 2007 by the ExxonMobil / Nigerian National Petroleum Corporation (NNPC) Joint Venture. The farm-out was structured such that the field benefits from the Nigerian Marginal Field Fiscal and Tax Regime.
Ebok is located in southern OML 67, 50 km offshore in 135 feet of water in Nigeria's prolific south eastern producing area. The field was discovered by the ExxonMobil / NNPC JV in 1968 (M-QQ1/Ebok-1), and two subsequent appraisal wells were drilled in 1970 (Ebok-2 and Ebok-3). A total of 271 feet (83m) of net oil pay was encountered in Ebok-1 in four sands between 2,600 and 3,600 feet (800-1,100m). None of the zones were production tested although 24°API oil was sampled in the Ebok- 1 well.
The Ebok area is covered with high quality (2011) multi-component 3D seismic data. To date, 27 oil producing wells and eight water injector wells have been drilled, in addition to several early appraisal pilot wells. An extensive data set is available for all wells drilled to date.
Production performance
Production at the Ebok field was 22,000 bopd at year end 2016. During 2017 Oriental successfully drilled two additional production wells at the field, from the Central Fault Block (CFB) platform. In addition, a gas producer was drilled to provide gas for optimizing processes and production in the facility. During the third quarter of 2017 the field production averaged 22,300 bopd, and the field surpassed 60 million barrels of cumulative production.
Outlook
Oriental Energy is seeking to maintain production at Ebok field through careful reservoir management, optimization of processes and facilities and the development of new reserves. An effort is underway to identify and plan the drilling of the Ebok Deep prospect, located under the main field reservoirs.