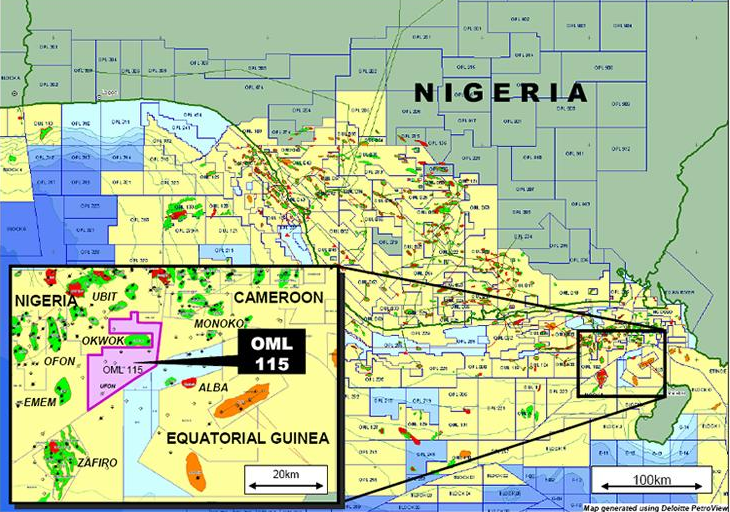 OML 115 is in the southeastern corner of the prolific offshore eastern Niger Delta, surrounding the Oriental-operated Ebok and Okwok marginal fields. Water depth range from 120 to 260 feet. The block contains shallow elements like the normally faulted Ebok and Okwok fields, as well as deeper portions of the Niger delta toe thrust belt. Prospective resource potential has been independently estimated at 205 mmbbls.
Seven exploration wells have been drilled in the block between 1968 and 2014. Drilling targets range from Pliocene "D" sand reservoirs such as found in Ebok and Okwok, to older Qua Iboe and Biafra/Isongo sands. An ocean bottom cable (OBC) multicomponent 3D seismic survey was acquired over the block between March and November of 2011, with processing completed in 2012.
| | |
| --- | --- |
| Nigeria | OML 115 |
| Operator | Oriental Energy Resources Limited |
| Working interest | 100% |
| Work program | Exploration/Appraisal/Development |
Outlook
Oriental is currently capitalizing on its extensive knowledge of the area to develop economic drilling opportunities around Okwok field and extending its Ebok Deep exploration concept into OML 115. The southeastern portion of the Okwok structure extends into OML 115 and once production processing, storage and export infrastructure is in place, OML115 opportunities will be able to benefit from cost synergies, lowering the economic threshold for new barrels in the area.